What Activities Outside of Golf Do You Enjoy and Why?
by Donna White, MA, LPGA Professional and Member of the LPGA Teaching &
Club Professional Hall of Fame,
Keiser University College of Golf Professor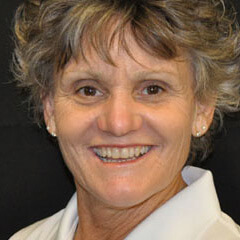 Outside of drinking diet Dr. Pepper and eating my Cheez-its, I enjoy doing anything I can to stay healthy.    Running, swimming, and attending spin classes are my favorite cardio maintenance choices.
I go through "gym rat" phases of attending different indoor sessions of yoga, body pump, boot camp, and a few attempts at Zumba.
My non-cardio exercises of planks, squats, Russian twists, push- ups, and various stretches are the typical "go to" movements when not at the gym.
Aside from maintaining my health, I enjoy spending time with my family doing "anything" from shopping to traveling.  Reading, listening to my favorite tunes, going out to dinner and a good movie are favorite pastimes.
Of course, occasional trips to play "blackjack" at the casino are always on the calendar, coupled with annual hiking or biking "road trips" to new destinations.
Having purchased a travel trailer several years ago, I keep it on the Indian River several months of the year. Going up on the weekends to relax on the beach, paddleboard or fish from my kayak are opportunities I cherish.
Making time to "get away" from work or other professional responsibilities keeps me in balance.  I feel these types of activities keep me mentally, physically, and spiritually refreshed.
If you enjoyed this info, here's how you can get even more. Contact Keiser University College of Golf about a golf management degree.