TJ Tomasi, Ph.D.
PGA PROFESSIONAL
Instructor, The College of Golf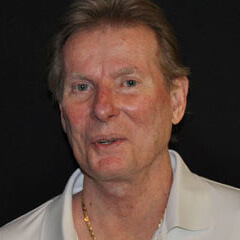 Dr. Tomasi is one of the most published professionals in the world with articles that appear in all the major golf magazines including Sports Illustrated, Golf Magazine, Golf Digest and Golf Tips Magazine. He is the author of a weekly syndicated golf page called Insider Golf that appears around the world as well as the author of 13 books. He is a Golf Magazine Top 100 Teacher and has held that distinction for a number of years. Recently, Dr. Tomasi was appointed as the Program Director for Golf Magazines Top 100 Organization.
Dr. Tomasi is also an authority on biomechanics and has been a presenter at educational seminars hosted by MIT in Boston, the PGA of America and the LPGA. He was the adjunct instructor at the Merrill Lynch Skins Game in Palm Springs in 2005 featuring Tiger Woods, and Annika Sorenstam and he does numerous golf outings for major corporations such as Wachovia, Pioneer and Deutches Bank. In 1999, GOLF Magazine appointed Dr. Tomasi chairperson of their worldwide Science & Golf Research Committee in order to find the most innovative and exciting research in golf. Dr. Tomasi holds a Ph.D. in Education, a Masters Degree in Education and an undergraduate degree in Sociology. It is estimated that he has given over 50,000 lessons.
Professional Accomplishments
Professor and Director of Research, Keiser University
Golf Magazine Top 100 Teacher
National Program Director, Golf Magazine's Top 100 Teachers organization
Nationally syndicated columnist
Founder of the LAWs of Golf teaching and playing model
30+ years Teacher of all levels of competency from tour player to beginner
Class A PGA Professional, Quarter Century Club
Writer and Lecturer
Expert in Biomechanics
Education
Bachelor of Arts in Sociology – St. Michael's College, Vermont
Master's in Education – St. Michael's College, Vermont
Ph.D. in Education – State Univ. of New York at Buffalo, New York
Golf Industry Experience
Author of Insider Golf, nationally syndicated weekly golf page in newspapers and other media
Member of the Board and regular contributor to The International Journal of Sports Science and Coaching
Director of the Players School, PGA National in Palm Beach Gardens, Florida
Director of Instruction, Five Star Academy of Golf, The Broadmoor Hotel
Director of Instruction, Chuck Hogan Golf Schools
Co-founder of the LAWs of Golf learning model
Chosen one of the Best Teachers in Florida by Golf Digest Magazine
Presenter at three MIT University Symposiums
Clinic and teaching professional, Merrill Lynch /Greg Norman Shark Shoot Out, Naples, Florida
Clinic and teaching pro at The Skins Game, La Quinta, CA. featuring Tiger Woods, Annika
Sorenstam, Fred Funk and Fred Couples
Three times Head Golf Professional
Director of Golf
Swing Coach – Yale Women's Golf Team
I Amplify.com – complete system of golf lessons downloaded to iPods
Reviewer for www.tibesti.com, a site that evaluates products and services
Featured in 50+ radio interviews
Featured eight times in SI magazine
100+ corporate outings at venues all across the USA
Publications at National and International Level
One of the most published golf instructors in the history of golf
Multiple Cover stories in GOLF Magazine, Golf Tips Magazine and Petersons Golf Magazine
A regular contributor to Sports Illustrated and Golf Magazine
Published in Senior Golfer, Inside Golf, Golfing, Golf Illustrated, PGA Magazine, Petersons
Golf Magazine, Golf Digest and Maximum Golf
Author/ Co-Author of 14 golf books published by major publishing houses
Featured in CNN instructional series appearing in-flight in airports and on CNN TV
Featured in the video tape series, The LAWs of Golf
Books translated into French, Italian, Korean, and German
DR. TJ TOMASI'S TEACHING PHILOSOPHY
---
The student is the centerpiece of the instructional experience. In my LAW's teaching and learning model the goal is to match the students swing type to his/her body type all within the framework of the laws of physics and biomechanics.