Eric C. Wilson, Ph.D.
PGA MASTER PROFESSIONAL
Campus Director, The College of Golf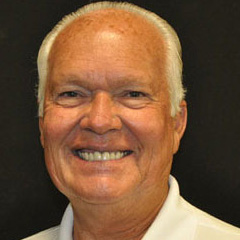 Dr. Eric C. Wilson is a PGA Master Professional in Instruction, one of 430 out of 28,000 PGA Members and Apprentices. Being a member of the College's PGA faculty allows him to live, work, and play in Port St Lucie, home of the PGA Education Center, where he trains both PGA Members and Apprentices. In 1996, Dr. Wilson became Campus Director for the San Diego Golf Academy (SDGA), and later was the Campus Director at three of the four SDGA campuses, opening two of them from inception. He was listed by Golf Digest Magazine as one of the best teachers in South Carolina for six years in a row, and has over 12,000 hours of classroom teaching experience and has given over 10,000 individual golf lessons.
Professional Accomplishments
PGA Master Professional in Instruction
Additional Certifications/Credentials
Impact Zone Golf Master Instructor (one of 14 worldwide)
PGA Master Professional Adjunct Faculty Member in Instruction (one of 17 worldwide)
PGA PGMP Adjunct Faculty Member (one of 40 worldwide)
Chairman, Special Olympics North America Golf Committee
Honors/Awards
2010 PGA National Conrad Rehling Award
2005 Carolinas Section PGA Horton Smith Award
2002 Carolinas Section PGA Bill Strausbaugh Award
1994 Southwest Section PGA Horton Smith Award
Golf Digest Best Teachers in the Country Recognition 2000-2005
Golf Industry Experience
Executive Director of Golf Operations, Keiser University College of Golf, 2009-Present
President, Golf Learning Systems, 2008-2009
Campus Director, SDGA Phoenix/San Diego/Myrtle Beach, 1996-2008
Director of Golf, Sun City Country Club, 1993-1996
Director of Golf, Country Meadows Golf Club, 1990-1993
Playing Record
Three course records, two at 8-under par and one at 6-under par
Competed in 1976 British Amateur Championship at St. Andrews, Scotland
Numerous US Air Force and amateur victories, including the 1967 College Athletic Conference Championship
Military Experience
Retired after 20 years of service in the United States Air Force with rank of Lieutenant Colonel
Awards include: Bronze Star Medal, Meritorious Service Medal with four oak leaf clusters, Air Medal, Air Force Commendation Medal, Combat Readiness Medal, Armed Forces Expeditionary Medal, and Viet Nam Service Medal
DR. ERIC C. WILSON'S TEACHING PHILOSOPHY
---
Golf is a game. Play it and have fun. If you can't have fun, don't play it. WHAT TO EXPECT WHEN YOU TAKE A LESSON FROM ME:
THE LESSON IS YOUR LESSON. I am there to provide whatever help you want. I will do everything within my power to help you get what you want.
I will EDUCATE you. I will teach you the Five Dynamics of Impact-Based Instruction. You will understand why the ball goes where it goes and why your body does what it does, both in the FULL SWING and in all aspects of the SHORT GAME, based on your skill level.
You will INTEGRATE your newfound knowledge into your own concept of club mechanics and swing mechanics. I will FACILITATE this integration by using TRANSFERABLE COMPETENCIES (skills you already have) to build on GOLF SKILL DEVELOPMENT. I will identify your SWING COMPENSATIONS, which allow you to strike the ball to the best of your abilities.
You will PARTICIPATE by incorporating your new knowledge into your actual ball-striking.
I will EVALUATE how well you have incorporated your new knowledge and changes into your club mechanics and swing mechanics.
I will work with you on your playing skills by helping you develop a mental and physical pre-shot routine and a practice methodology, which will allow you to "take it to the course."
I will ENCOURAGE and MOTIVATE you to improve and have fun.
In summary, I will EXPLAIN what you want to know. I will DEMONSTRATE what I tell you. I will ask you to PRACTICE to get the feeling of the new club mechanics, swing mechanics, and the Five Dynamics of Impact. I will provide FEEDBACK on how well you incorporate the changes in your club and swing mechanics.
ABOVE ALL, MY APPROACH IS TO KEEP ALL ASPECTS OF MY INSTRUCTION AS SIMPLE AS POSSIBLE.
REMEMBER – Golf is a game. Play it and have fun. If you can't have fun, don't play it.