College of Golf Finishes Third in the NCCGA Regional Tournament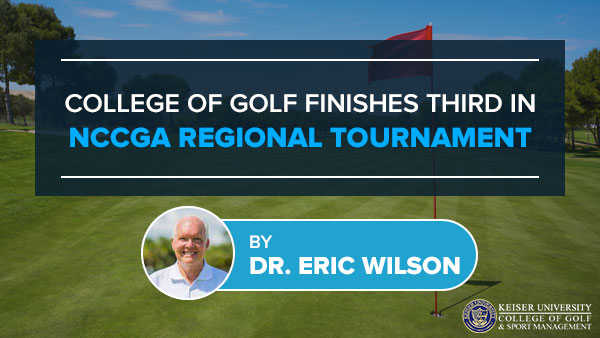 by Dr. Eric Wilson Keiser University College of Golf Executive Director of Golf Operations
The Keiser University National Collegiate Club Golf Association (NCCGA) team recently competed in the Florida Regional Golf Tournament at Sandridge Golf Club in Vero Beach, Florida. The Seahawks finished in third place behind winner University of Tampa, and runner-up, the University of Florida, and ahead of Florida International University, the University of Central Florida, and Florida State University.
The team was led by Sam Wilson, who finished in the top-10 with rounds of 73-80 = 153. The next best for the Seahawks, with scores of 75-81= 156, was Ryan Byrd, followed by Aaron Lennie with scores of 77-81 = 158. Coach and PGA Instructor Frank Longabucco said, "the team played well on day one and had to fight inclement wind conditions on day two. However, they enjoyed the experience and learned much that will help them play even better down the road."
The club's next event will be held at MetroWest Golf Club in Orlando, Florida, on April 2nd and 3rd. The NCCGA has over 200 college club teams nationwide that compete in tournaments. The top 25 teams will advance to the National Championship in Hot Springs, Arkansas. The Seahawks are currently ranked seventh. For full details and results, go to nccga.org.
If you'd like to study with Dr. Wilson and other PGA Master Professionals, contact The College of Golf today.