Where are the Best Places to Play Golf in the Winter?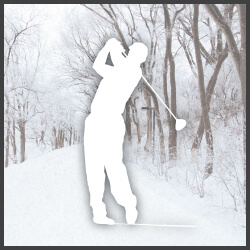 Winter golf for many American golfers means one thing – go west and south for warmth and great courses. The tourism trade is in full force for winter golf, and places like California, Arizona, Nevada, Florida, South Carolina, and even Mexico are usually among the top picks for golfers. Golf courses in these locations offer the best combination of dependable weather, on-course action, and after-hours good times. Before you book a winter golf vacation, check out these five areas to determine the best place for your foursome, and how best to make it a memorable winter golf vacation.
Las Vegas
Golfing in Las Vegas in winter is top of mind for many golfers across the US. In fact, PGA.com ranked Las Vegas as its top winter golf destination. Certainly, the dry, sun-kissed weather is helpful, but being in the mecca of nighttime adult action is also a big bonus.
During the winter, Nevada's temperate weather won't have you sunburned and soaked in sweat by the third hole. The lack of scorching desert heat in the winter not only provides a more enjoyable golf experience, but you'll also find less competition for tee times and fewer crowds. Take your pick of designer courses like Primm Valley, designed by Tom Fazio, The Falls, created by Tom Weiskopf, or Jack Nicklaus' Reflection Bay. The winter season also offers better airfares and lodging rates, letting you spend more money on your golf and evening activities.
Because Las Vegas is known as the business convention capital of the world, golfers might also be able to combine business with a little golf pleasure. Check out the Las Vegas convention calendar to find a convention or trade show in your industry. Before you to head to Sin City, check out how Golf Digest's readers ranked the Top 25 courses in Vegas.
Cabo San Lucas
For a more exotic winter vacation, consider a trip to Cabo San Lucas, Mexico. Cabo is more about quality than quantity, offering only a handful of world-class courses, but look at the design names behind these courses: Nicklaus, Dye, Jones, Norman, and Weiskopf. It's a hot new market for golfers, and one that's building the lure of Cabo San Lucas as a relaxation destination. Stunning views of the Sea of Cortez, desert arroyos, and scenic mountains create an unforgettable golf experience in Cabo.
For low handicappers, the championship courses are more difficult and a bit pricey, but well worth the fees for serious golfers. Take the Puerto Los Cabo golf course, for example. Where else can you play a course with a Greg Norman front nine and a Jack Nicklaus back nine? Nowhere in the world.
Cabo San Lucas has it all. In addition to golf, activities include the beach, sport fishing, shopping, concerts, and dining. You can choose from more than 100 private villas or resorts, with familiar names like the Westin and Hilton available. The Questro Group operates three fabulous courses, Cabo Real, Puerto Los Cabos, and Club Campestre San Jose, and can help you organize a complete vacation package.
South Carolina Lowcountry and the Grand Strand
If you're looking for pleasant weather for the family, the South Carolina Lowcountry or the Grand Strand can be a good choice. Hot weather is a rarity, and cool temperate weather is more the norm. Golfers often hit Hilton Head Island and Myrtle Beach starting in November. They will play in the balmy weather during the day, and then head to dine out at the many destinations that offer hearty local Southern fare or upscale international cuisine.
Take your pick of popular golf spots stretching almost 100 miles of Atlantic coastline, such as Hilton Head Island, Charleston, or Myrtle Beach. For a more exclusive getaway, you can explore Jekyll, Dafuskie, or Kiawah Islands. Home to hundreds of courses by the top designers, the Lowcountry and Grand Strand also boast incredible apres-golf entertainment, history, culture, arts and dining. Courses by the top architects, including Nicklaus, Palmer, Fazio, Jones, Dye, and Player, populate a landscape that provides breathtaking ocean views. Harbour Town in Sea Pines, for example, lets you play a challenging, scenic, world-class course that has excited some of the world's best pros.
For a more upscale, secluded golfer-only or family-friendly vacation, the Lowcountry is your choice. For a more commercial destination with lots of adult and/or age-appropriate attractions for a group of buddies or a family, Myrtle Beach is a Southeastern golf mecca.
Florida
If a Florida winter golf vacation sounds like a cliché, there's a reason – the Sunshine State was practically built around golf. Almost anywhere you go, from the Atlantic Ocean to the Gulf of Mexico, Florida offers great golf. Because of the state's very Southern location, your group can expect great beach weather, windsurfing, and sport fishing, along with perfect golf climate.
November and December are the best times to head south before the winter rates start to rise, advises WorldGolf website contributor Tim McDonald. With endless resorts and attractions like Disney, Epcot Center, and Busch Gardens a key part of the state's economy, golf destinations have taken the vacation package to an art form.
Depending on your budget and whether you're driving or flying, your choices for great golf are almost endless. Whether it's Jacksonville, Daytona Beach, Ft. Lauderdale, Sarasota, Coco Beach, Miami, Panama City Beach, Palm Springs, Orlando, Tampa, Boca Raton, Naples, Ft. Myers, Orlando, or Key Biscayne, you'll find a golf vacation to match your playing skill level and budget. The PGA is headquartered in Jacksonville, the LPGA in Daytona Beach, and the U.S. Golf Teachers Federation calls Port St. Lucie home. Don't forget to visit the Keiser University College of Golf if you're in Ft. Lauderdale.
Arizona
Arizona offers great golf playing and watching opportunities during the winter months. In January, the tour season kicks off with the Phoenix Open, played on the TPC Scottsdale Champions Course, which draws upwards of 500,000 people annually. Other PGA and LPGA tour stops in Arizona, including the LGPA Founders Cup in Phoenix and the Match Play Championship in Tucson. With more than 300 courses located throughout the state, Arizona is a great choice for winter golf vacations.
Choose from golf hotspots like Phoenix, Scottsdale, Tucson, and Sedona, or other areas that offer sun and fun for families or groups. As a retirement haven built in a former desert, Arizona created hundreds of quality courses to attract serious players, and you'll benefit from the reasonable prices, great restaurants, shops, and excellent accommodations built to lure travelers and eventual residents.