John Callahan
PGA PROFESSIONAL
Instructor, The College of Golf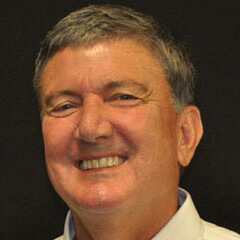 John Callahan, a graduate of Stonehill College in Massachusetts, earned Class "A" membership into the PGA of America in 1970. A fine player, Callahan is a former winner of both the Vermont PGA Stroke Play and Match Play Championships and was a member of the Tournament Players Division of the PGA in 1977 and 1978.
Callahan has been the Head Golf Professional at private, public and resort courses, and since 2007 John has owned and operated The Callahan Golf Learning Center in Colchester, Connecticut. All through his career Callahan's passion has been for teaching people the game of golf. He has given over 30,000 lessons to players ranging from beginners to PGA and LPGA Professionals. In 2011, Callahan's teaching acumen was recognized by Golf Magazine which named him an "Adjunct-Top 100 Golf Instructor of America," one of only seven included in the Short Game Instruction category out of thousands of nominees throughout the country. A believer that balance, tempo and a great short game are the key elements in scoring, Mr. Callahan was also pleased to become a full-time faculty member at Keiser University's College of Golf in 2011.
Professional Accomplishments
PGA PROFESSIONAL since 1970. after serving an apprenticeship at the Rockaway Hunting Club in Cedarhurst, Long Island, New York under Frank Cardi, National President of the PGA of America.
Golf Industry Experience
Presently: Golf Program Instructor, Keiser University College of Golf, January, 2011-Present
Presently: Owner, John Callahan Golf Learning Center, in Colchester, CT, 2007-Present
Formerly: Head Golf Professional at the Sugarbuh Golf Club; the Kwiniaska Golf Course; the Stowe Mountain Country Club. Assistant Professional: Santa Teresa Country Club, Quail Ridge Country Club, Burlington Country Club. Teaching Professional: Brea Burn Country Club.
Playing Record
Participated in approximately 600 PGA of America Sectional events, the majority of which were in the Pro-Am format in order to reward club members/students with the opportunity to compete with their PGA Professional against other Pro-Am teams.
Additional Distinctions
Past President, Vice President and Secretary of the Vermont Chapter, PGA of America.
Member, Golf Committee of the Hudson Valley Alzheimer's Association of New York which through its annual golf tournament has raised over $300,000 for Alzheimer's research and related services.
In 2011 Callahan's teaching acumen was recognized by Golf Magazine which named him "Adjunct Top-100 Golf Instructors in America", one of only seven so named from thousands of nominees throughout the country.